It's no surprise that data centers use quite a bit of power to operate. In fact, they use about 3% of power generated on the planet, but what is surprising is that 40% of power consumption can be attributed to cooling methods. This metric is typically associated with air cooling methods, which are definitely not the most efficient.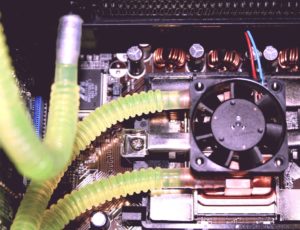 By cooling the air in the room to ensure the equipment does not overheat, you end up doing a lot of extra work. Enter liquid cooling; allowing you to cool equipment directly at the source of heat, whether that be by submerging the actual equipment in liquid or implementing direct-to-chip cooling. Here are some details about the two liquid cooling methods:
Immersion Cooling: This method involves submerging the actual equipment in a non-conductive liquid. This is much more efficient for removing heat than air cooling, however is much more expensive than direct-to-chip cooling, as it requires a large amount of dielectric fluid, which is expensive.
Direct-To-Chip Cooling: This method involves a heat sink attached directly to a CPU, to which two tubes are attached. In one tube, cold water flows in and draws heat away from the heat sink, and the other tube carries this heated water away to be disposed of. This method is much cheaper than immersion, since there is no direct contact with equipment allowing water to be used in place of dielectric fluid.
While the idea of liquid cooling has been around for quite some time, it has only really started to come into common usage in recent years. What started off as computer enthusiasts wanting to overclock their home PCs has translated into companies like Google implementing liquid cooling methods for some of their heavy-compute equipment after finding that air cooling was not up to the task. Additionally, air cooling introduces a number of inefficiencies such as introducing pollutants, creating condensation in the environment, and equipment that often needs to be repaired. Liquid cooling eliminates these inefficiencies, and lowers power costs, but for now remains a bit of a costly endeavor to implement.
Download our eBook to read more about 2019 Data Center Trends!