Believe it or not, we're approaching the halfway mark for 2017! In many ways 2017 has already been a critical year in terms of technological advancement, but there's still much more to come. Moore's Law is ever-apparent these days, as everyone strives to make the ultimate pocket sized computer (otherwise known as a mobile phone), companies introduce more sophisticated IoT devices and VR/AR technology creep closer to resembling the experiences you've seen in 1980s science fiction movies.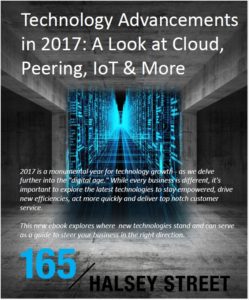 So, the big question is, do you know what to expect in terms of the forecasted tech trends? On top of that, are you taking advantage of colocation services that are equipped to support the devices of tomorrow?
Luckily, the 165 Halsey Street team has authored an eBook, titled, "Technology Advancements in 2017: A Look at Cloud, Peering, IoT & More" that outlines some of the major technological projections for 2017. While every business is different, it's important to explore the latest technologies to stay empowered, drive new efficiencies, act more quickly and deliver top notch customer service. This eBook explores where new technologies stand and can serve as a guide to steer your business in the right direction.
If you're interested in our expert opinion on emerging technologies, please click below to download our FREE eBook.